A List of Short Humorous Stories for Class 10
To be quite honest, the tenth standard is a serious class. Most of the students are pressurized by teachers as well as parents and even sometimes both to perform exceedingly well in the final exams. But according to the famous quote, 'All work and no play make Jack a dull boy.' Humour has always been a stress reliever; read on to find out some of the funniest and most humorous stories for Class 10, and that a tenth standard student can laugh at, just to take some of the tension off.
CAPTAIN UNDERPANTS by DAV PILKEY
If you like those stories that are cleverly written and also simple, then this is just the book for you.
The plot revolves around two little boys named George and Harold who are notoriously famous for their pranks at school as well as their hobby for drawing comics.
But, one fateful day the Principal of the school catches them setting up an elaborate plan for a prank and threatens to make them do a series of chores to make up for it.
The boys, however, come up with another plan. They hypnotize the Principal and make him into a brand new superhero that they created, aptly termed as Captain Underpants.
This story relates to the relationship between adults and children. The author uses humor to reverse the relationship while having fun with it at the same time.
Filled with amazing cartoons and laugh out loud moments, this book also contains jokes that are always funny, but sometimes a bit disgusting too.
OX, OX: A LOVE STORY by ADAM REX
Only a small number of people would have truly speculated about the love stories of gazelles or oxen. This book proves that if such a relationship would ever become existent, then it would be nothing short of amusing.
The narrative is told through a compilation of letters where a love-struck and obstinate Ox tries to impress a superstar Gazelle. The enjoyable illustrations make the book truly unforgettable.
This may seem like it is a book for children, but adults can understand the subject matter of unrequited love and be grateful for the way the author plays with language.
HUNTING THE DECEITFUL TURKEY by MARK TWAIN
Mark Twain, one of the most legendary figures in American literature, recounts a true incident where he tries to shoot a turkey for Thanksgiving Dinner.
The story is an entertaining description of his disappointment and also relates to the American tradition and a rite of growing up.
Thanksgiving is a holiday usually celebrated in the United States and Canada where the whole family is supposed to have dinner together in order to communicate their thankfulness for the food and things they have.
In general, turkey is the main dish in the feast and it has a unique meaning for Americans.
During Twain's time, hunting a turkey for the festival was seen as a mark of being a grown up. In this narrative, he talks about how he was outwitted by a turkey for an entire day and in the end basically had to have tomatoes for a meal. The detailed scrutiny of the bird's behaviour and his embellished descriptions make the story a true classic.
Since it was written in 1906, you might read some words which are not normally used anymore. For instance, the word "swindler" can be replaced by the words "cheat" or "fraud" in modern English.
LET'S PRETEND THAT THIS NEVER HAPPENED: A MOSTLY TRUE MEMOIR by JENNY LAWSON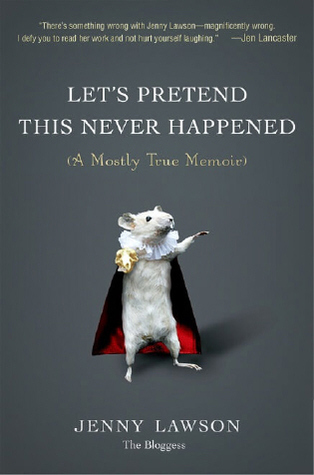 Have you ever felt that you did not fit in? Did you feel like you were eccentric, weird, uncomfortable or simply mystified? The author of this book felt like that all the way through her life. She tells an anecdote which is equal parts hilarious and informative.
The foundation message is that the moments that make us self-conscious (that we act as if never happened) are the ones that identify us.
While she narrates episodes about her sister who comes to school in a bird costume, her cat who is like a message board for her and her relationship which is both profound and comical, she manages to talk about grave things which are significant to all of us.
THE WOMAN WHO WENT TO BED FOR A YEAR by SUE TOWNSEND
Eva, the chief character, is aggravated by her family. So when her children leave home, she climbs into bed and stays there. She declines to be a compliant wife to her unresponsive husband. She also stops being a perfect mother to her casual children.
Soon enough, unanticipated things start happening and the true face of every person in the home starts to come out.
The novel is laughable but also seeks to question conventional family roles in modern society.
EM AND THE BIG HOOM by JERRY PINTO
Madness is usually seen as a very medical subject. Mad people are often portrayed as far-off and unexplained. They are stigmatized for their disorders and their civilization is more often than not ignored.
This work of fiction narrates a tale about a woman who suffers from schizophrenia. The storyteller is her son who is trying to outline out what is happening and also explores his parents' past. It contains the whole variety of emotions from happiness to sorrow to fatigue.
The exclusive characters and motivating observations about the family and their way of coping with Em, the mother, make the book entertaining. But the book is never too naive and is able to hold on to the human constituent in all the characters.
THE SELLOUT: A NOVEL by PAUL BEATTY
It is a quick, droll story about an African American protagonist (the main character) who was born in a middle-class family. Raised by a single father, he dreams of making his life well again and better than what it was. But when his father is killed in a police shooting, he tries to find to take a fundamental and drastic step.
The novel is amusing and goes deep into the heart of American society.