BITS campuses are a preferred destination for most recruiters. Thanks to the systematic and student-friendly placement procedure in BITS, a majority of the students are successful and draw an enviable package. This helps students to balance their work and duties along with placements.
In this article, we will further discuss their placement procedures, general info, salaries, etc.
Placement Procedure
Process Driven Placement System – BITS placement process has been refined to make recruitment as simple as possible for students and companies alike. The placement process is:
They contact companies about 2 months ahead of the placement schedule.
Companies provide them with the necessary data through a job announcement form.
Then they examine the requirements and send a formal invitation to the companies.
They fix a mutually convenient date and time for the presentation & selection process.
Then they announce the visit along with the details provided by the company in the announcement form to the students.
They ask eligible students who are interested in the job to apply for the job a week before the visit.
Then they provide essential details of applicants to the company.
The company re-confirms the travel plan a week before the allocated visit date.
Then they book accommodation for the company (on payment basis) at the Guesthouse within the campus.
They book a presentation hall, and a student volunteer is allocated to take care of the logistics on campus.
They announce the list of selected candidates once the company finalises it.
Students sign the offer letter, and a copy is forwarded to the company.
Some of the favorable points of the placement process are:
No registration charges
Rooms with LCD projectors and computers are provided for conducting pre-placement talks.
Rooms for aptitude tests, group discussions and interviews are also made available.
A team of dedicated placement committee volunteers works to ensure simpler logistics and all other issues regarding campus placements.
So, as we can see, the steps are very detailed and technical in nature. The planning also helps in estimating the number of days one has for appearing for the exams and interviews. It helps to get a deadline before the announcements.
Placement Statistics (2015)
BITS Pilani
BITS Pilani, Pilani campus has always been the top BITS among the three.
It was announced that 150 students were placed only within two days, with a highest domestic offer of 23.5 lakhs per Annum(LPA). The other information regarding the percentage of students in different salary range is given in the pie-chart. Certainly impressive that over 30% of students got packages over 10 lakhs.
The top recruiters for 2015 were:
There are about 500 students (approx.) who get placed every year in BITS Pilani.
Placement Statistics(2014)
Placement Statistics 2014
This year, the highest package was 1.44 crores. That's certainly impressive along with 27.11% students with more than 10 LPA.
The top recruiter for 2014 was:
Placement Statistics(2013)
BITS Goa
As we can see in the pie chart in 2013, 12 % students got placed with a package of more than 10 LPA. That's very impressive.
CTC-wise Distribution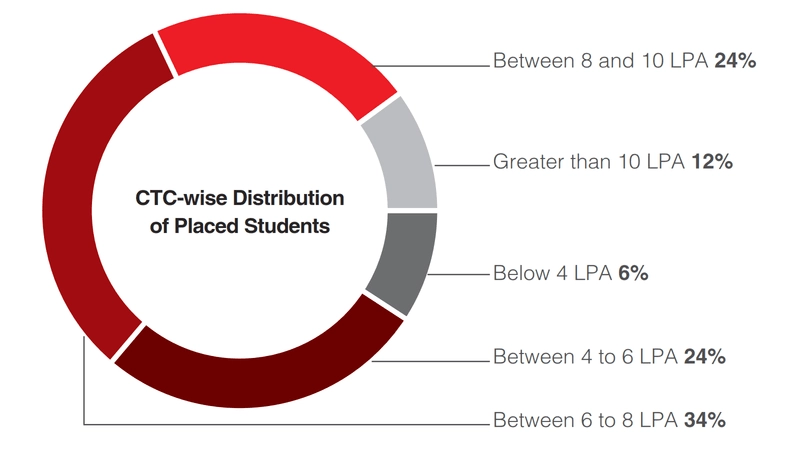 Sector-wise Distribution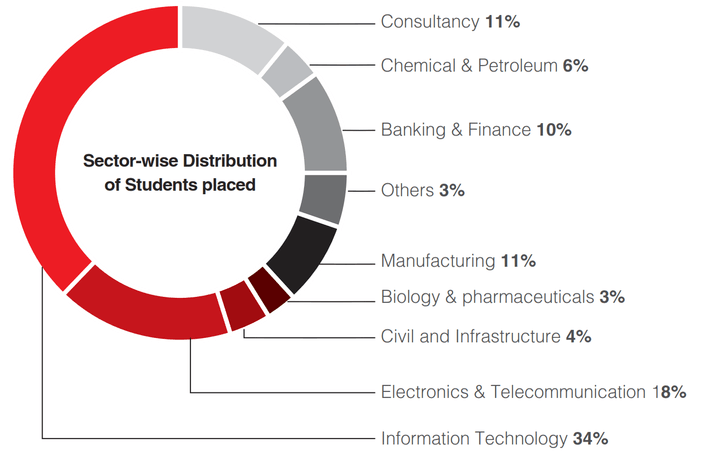 BITS Hyderabad
CTC-wise Distribution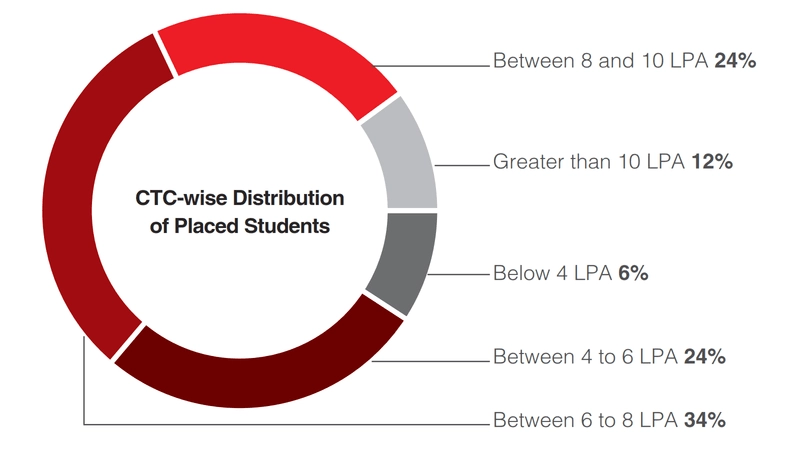 Sector-wise Distribution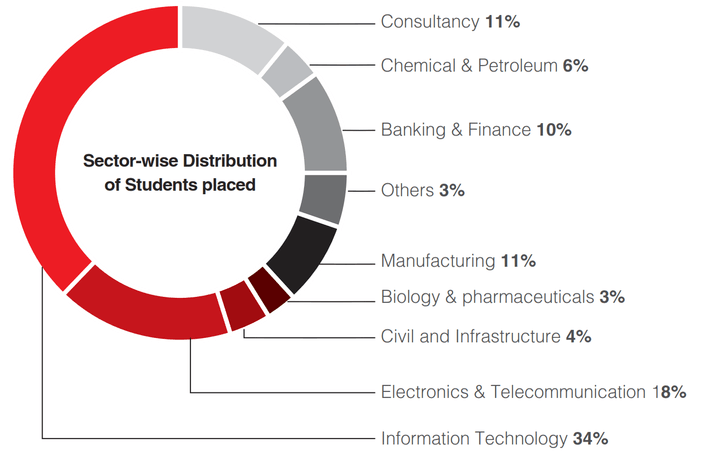 As we can see, all the BITS campuses have an impressive record of placements. So, if you are wondering about getting a high salary at the end of your four or five years, they are a nice choice.
Major Recruiters
A few prominent recruiters of BITS are:
Absolut Data
Aditya Birla Corp
Adobe Systems
Amazon Development Centre
Apex Decisions
ASHOK LEYLAND
Bain
Bank Bazaar
Bank of America
Barclays Technology Center
BeeHyv Software Solutions
Bharti Airtel
Bogolik Software Solutions
Bosch
BrahMos Aerospace
Bristlecone Labs
Broadcom India Research
Capgemini
CISCO Systems
Cognizant Technology Solutions
Dell International Services
Deloitte Consulting
EA Games
eBay India Product Center
EMC Software and Services
Epic Systems
Ericsson India Global Service
Ernst & Young
Facebook
FIAT
Flipkart Online Services
Future Bazaar
Google
Grail Research
HAL
HCL Technologies
Hero MotoCorp Ltd
Hewlett Packard
IBM Research
Infosys
Infotech
Intel India Technologies
Intel Mobile Communications
ITC
JP Morgan Chase & Co
JP Morgan Services
Maruti Suzuki
Microsoft Corporation (Redmond)
Microsoft Development Center
Morgan Stanley
Mu Sigma
Mylan
MySmartPrice.com
MYSQL
Nokia R&D
NTPC
nVIDIA Graphics
Opera Solutions
Oracle India
Qualcomm
Reliance Industries
Saint Gobain
Samsung India Software
Samsung R&D
Schlumberger Services
SHELL
Symantec Software
Synopsys
Tally Solutions
TCS
Tata Consultancy Services – Analytics
TATA Housing
Texas Instruments
Tata Motors
TCS R&D
Tata Technologies
UCO Bank
Ultratech
Unilever
Unitech
Voltas
Walmart Labs
WIPRO
Yahoo! Research & Development
These are the names of some famous companies that come to recruit in BITS campuses. There are more companies listed in their brochures.
Choices of Branch
The curriculum of BITS allows you to get specialization in different subjects along with your core subjects. So, if you are wondering whether you will be able to appear for the companies different from your core ones, you can certainly do. Now if you want to join a company that is not at all related to your branch and you haven't taken any extra courses to get expertise in that type of work which is done there, then you can't or should not appear for the selection procedure.
If you have got a branch, which you don't like and don't have any core companies where you want to work, you should aim for a Department Change in the first year. Another way is to take up subjects related to the branch as electives in your later years. This will give you the necessary expertise in that field. The experience will help you in being eligible for that specific work in that specific company of your choice.
So, your choices of the branch at the beginning should be on the basis of the company you want to work in. The reasons may vary from money to fame. After that, when you get or don't get the desired branch, you have to work in the direction of getting the required expertise for the job you are aiming to do.
You can also check out a comparative study between IIT Bombay and IIT Delhi.
For more such information, keep following us here.