Education encompasses in itself the entire world of learning and personality growth, which prepares an individual for the ordered chaos that our world is. Not only does it transform a toddler to an individual with a complete package, but also does the job on a massive scale producing billions of 'prepared' individuals every year. What becomes the rock in the path is the efficiency of this Herculean process. Especially in a country like ours with overcrowded classrooms and limited laboratory equipments along with restricted quality faculty, expecting a foolproof outcome of the chaotic system is a far-fetched dream. But to make matters crystal clear, there is no less investment of money and resources on the part of government on education of every student. Then how exactly do we make the most of the situation? How do we enhance learning to the extent that every student makes the most of the system? We create a culture of experimentation in education (and for those who believe that it is already present in the curriculum, you are living under a rock).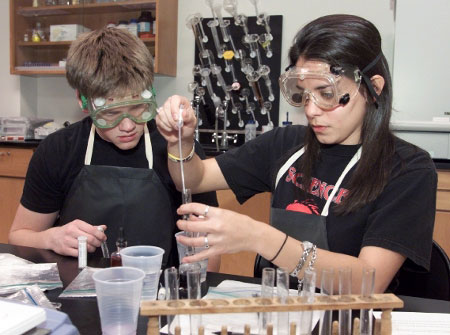 Studies reveal how much more the retention by students shoots to sky high when a concept is presented pictorially, through animations and models, experimentation and letting them reach a conclusion themselves through experimentation (in that specific increasing order). But the culture of scientific discovery is lacking in the new generation, for education and society have become more job oriented. This is also responsible for the downfall of students preferring research over jobs. Bringing the culture of experimentation in India will be a highly sluggish process, but can possibly be achieved by the few steps below.
Firstly, we discuss the measures on the grass-roots level wherein the culture of experimentation is inculcated in students from their early stages itself. The faculty must encourage students to invest in learning through experiments and learn to take risks, especially the small ones. Students are to understand that majority of the times, experiments are bound to fail and that is perfectly fine. It is from these methods that didn't work out that students are to research further as to what went wrong, discuss with their peers and teachers and enter into a completely different level of learning.
The process is to be completely incentivized, to those who succeed and fail alike, so as to create a positive environment with a drive to know answers to questions which are so much more than the curriculum.
Secondly, steps are to be essentially made on the investor front. Most investors, whether they're profit-seeking entities or foundations interested in social impact, act in one of two ways: (1) they assume someone else is doing the work to create new ideas; or (2) they assume new ideas just come from the either, and that philanthropy can't actually impact the number, quality, or diversity of ideas. Their approach is mostly passive. This has not done any good to the scientific community in the long run. Scientific development has to go hand in hand with technological advancement and acceptance by the learning community. It is with better and easier equipment that concepts are easily explainable to budding scientists. What investors need to absorb is that they need not invest in ideas, rather invest in the process that will give the entire community better results. Only with more advanced research techniques can a student study slides under a microscope, operate a centrifuge or even calculate wavelengths of standing waves. Imagine doing that a century ago!
An amalgamation of both of these will bring to us classrooms equipped with advanced technology and motivated students who are willing to spend an extra sweat to engage themselves in experiments which made scientists scratch their heads decades ago. The experience will be so enlightening in itself when they are guided towards positive results.
The right amount of motivation and incentivized encouragement coated with the essential environment for experimentation will automatically build the culture we dream of.