For many students, entry into the hallowed walls of IIT is a dream in itself. But for some, it is just the first step to creating unthinkable success stories. From top-notch CEOs to famous scientists, from young entrepreneurs to quirky entertainers, successful IIT alumni have inspired generations of students.
Here's the underlying message—dare to dream and the world can do nothing but admire you. Across the Indian start-up sector, there's a growing network of alumni from some of the best-known institutions in India. IITians have taken India by a storm in the past few years and managed to make a mark in almost every profession you can think of under the sun.
Why don't you spare just a few minutes to read some of their success stories? Who knows, you might be the next!  Let's shift our focus towards what the successful IIT alumni are up to, right now. Here we go!
Successful IIT Alumni Who Made India Proud
Sundar Pichai
Sundar Pichai chased his starry-eyed technology dreams and is currently the Senior Vice President at Google. Responsible for the launch of the dominant Chrome web browser, he was previously the product head for Android, Chrome, Maps, and other popular Google products. He earned his Bachelor of Engineering degree from IIT Kharagpur in Metallurgical Engineering. Holding an M.S. from Stanford University and an MBA from the Wharton School of the University of Pennsylvania, he was also named a Siebel Scholar and a Palmer Scholar. He is one of the most renowned and successful IIT alumni at the moment!
N.R. Narayana Murthy
The co-founder and ex-chairman of the mighty Infosys, Nagavara Ramarao Narayana Murthy, is famous across the globe. An M.Tech from IIT Kanpur, he studied electrical engineering at the University of Mysore. In the year 1981, he co-founded the MNC Infosys, which provides business technology, consulting, engineering, and outsourcing services all over the world. In 2013, he became the Additional Director and Executive Chairman of the same. Murthy has received the prestigious Padma Shri and Padma Vibushan awards. Time Magazine also described him as the Father of Indian IT.He finds the top spot among successful IIT Alumni.
Sachin Bansal
It took Sachin Bansal, 32, a mere six years to build Flipkart, the country's best-known online retail brand. This IIT-Delhi alumnus co-founded the company with college friend Binny Bansal in a small flat in southeast Bangalore in 2007 with Rs. 4 lakh. Flipkart's success has come not just from online retail, but also from its focus on building technology services at the back end.
Vinod Khosla
This American businessman has been listed as a billionaire by Forbes magazine. Khosla made his early fortune as one of the co-founders of Sun Microsystems, a company which created the Java programming language and Network File System (NFS). He then went on to form his venture capital firm, Khosla Ventures in 2004. He attended Mount St. Marys High School in Delhi and is an alumnus of the Indian Institute of Technology Delhi (Bachelor of Technology in Electrical Engineering).
Nikesh Arora
The Vice Chairman of SoftBank Corp. and CEO of SoftBank Internet and Media, Inc. (SIMI), Nikesh Arora graduated from the Indian Institute of Technology (BHU) Varanasi, India, with a Bachelor's degree in Electrical Engineering. He also holds a degree from Boston College and an MBA from Northeastern University. Nikesh has worked for Deutsche Telekom, Putnam Investments and Fidelity Investments in the past.
Amit Singhal
Winner of the Outstanding Achievement in Science and Technology award at the Asian Awards 2011, Amit Singhal is an ex-student of IIT Roorkee. He is the Senior Vice President at Google Inc. He had rewritten Google in the year 2001 and had been honored  as a "Google Fellow." Singhal says that he was persuaded to join Google by his friend Krishna Bharat, who is a principal scientist at the web search giant. His last day at Google was February 26, 2016, and his next journey will involve philanthropy.
Chetan Bhagat
Chetan Bhagat is an Indian writer, known for his bestselling English-language novels about young urban middle-class Indians. He is an engineer from IIT Delhi and has an MBA from IIM Ahmedabad. His six bestsellers are Five Point Someone – What not to do at IIT, One Night @ the Call Center, The Three Mistakes of My Life, 2 States – The Story Of My Marriage, Revolution 2020 and non-fiction What Young India Wants.
Manohar Parrikar
Manohar Gopalkrishna Prabhu Parrikar is an Indian politician from the Bharatiya Janata Party who has been Chief Minister of Goa since 14 March 2017. Previously he was Chief Minister of Goa from 2000 to 2005 and from 2012 to 2014. Parrikar served in the BJP government under Prime Minister Narendra Modi as Defence Minister of India from 2014 to 2017. He is the first IIT graduate to serve as Chief Minister of an Indian state. He was awarded the Distinguished Alumnus Award in 2001 by IIT Mumbai. He studied at Loyola High School, Margao. He completed his secondary education in Marathi and went on to graduate in metallurgical engineering from the Indian Institute of Technology, Mumbai (IIT Mumbai)in 1978. A successful IIT alumni.
Raghuram Govind Rajan
Raghuram Govind Rajan  is an Indian economist who is the Katherine Dusak Miller Distinguished Service Professor of Finance at the University of Chicago Booth School of Business. He was the 23rd Governor of the Reserve Bank of India between September 2013 and September 2016. Between 2003 and 2006, Rajan was the Chief Economist and Director of Research at the International Monetary Fund. In 2015, during his tenure at the Indian Reserve Bank he also became Vice-Chairman of the Bank for International Settlements. In 1981 he enrolled at Indian Institute of Technology, Delhi for a bachelor's degree in Mechanical engineering. In the final year of his five-year degree, he headed the Student Affairs Council. He graduated in 1985 and was awarded the Director's Gold Medal as the best all-round student.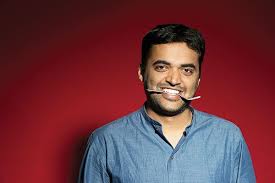 Deepinder Goyal
Deepinder Goyal is the Founder and CEO of Zomato. Prior to starting Zomato, Deepinder worked as a management consultant with Bain and Company in New Delhi. It was at Bain that Deepinder conceived the idea of an online restaurant information service after seeing the demand for menu cards among his colleagues. He left Bain in 2008 to start Zomato (then foodiebay) out of his apartment and has since overseen strategy and product development. Deepinder graduated with a Mathematics and Computing degree from IIT Delhi in 2005 and hails from Muktsar in Punjab.
Nandan Nilekani
Nandan Nilekani was the Chairman of the Unique Identification Authority of India (UIDAI). In 1981, Nilekani was one of the founders of Infosys and  became the chief executive officer of Infosys in March 2002 and served as CEO of the company through April 2007.Nilekani joined Indian National Congress in March 2014 and contested from the Bangalore South constituency where he lost by 228,575 votes to BJP candidate Ananth Kumar in the 2014 Lok Sabha election.
Nilekani studied at the Bishop Cotton Boys' School and St. Joseph High School Dharwad, Karnataka PU College Dharwad and received a bachelor's degree in electrical engineering from the Indian Institute of Technology Bombay, Mumbai.
Bluegape
Till 2011, Ayush Varshney and co-founder Sahil Baghla, 23, were usual students at IIT Kanpur, but then a thwarted wish to print a poster got them thinking about a potential business idea. So in August the same year, they invested Rs 2 lakh to start Bluegape from their hostel rooms. Their venture began life as a personalised poster company with a clientele limited to their campus. In the process, they pocketed 20% of the sale price as their profit. Convinced by their initial success, the duo decided to expand the website to a national level in December 2011 by taking orders online.  The business model was simple. Anyone with a picture they had copyright to could send it across to Bluegape, mentioning the size of the poster that they wanted. The portal would print and deliver it within 4-10 days. The company soon started making coffee mugs, cushion covers, laptop skins and Tshirts. They also supplied merchandise to various retailers across the country.
Knowlarity
Knowlarity, a cloud telephony company, was founded in 2009 by Ambarish Gupta and Pallav Pandey. The two IIT-ians (Kanpur)pooled in their experiences of working at global consulting firm McKinsey to launch the new venture. They decided to address the need for technology for India's small and medium enterprises, creating a platform for voice application services hosted on the cloud or common servers. Knowlarity hosts a number of telephony products that are sold through a common direct and channels sales network. The company also plans to expand its sales force to reach a wider set of enterprise businesses across India. As the start-up has grown, it has received multiple rounds of investment.
This was our list of the top successful IIT alumni. Let us know if you want us to add more IITians to this list. We would love to hear from you.
Wouldn't it also be interesting to know about the startup companies founded by IITians? Read more about it here.