Top CBSE Schools in Jamshedpur
Education is a must for the generation of today. It's not just about getting good marks, a good college and good job. Education defines our social behaviour and where we proceed in life. For the proper education, it is of utmost importance to start out with the right school. As a parent, the first big decision we face in our life regarding our children is the choice of their school. Various factors like teaching standards, school infrastructure, curriculum, safety, fees, location, etc. need to be carefully weighed before you can zero-in on one particular institution. To make the choices of some of you easier, in this article, we bring you the top CBSE Schools in Jamshedpur!
Jamshedpur has many top most and popular schools which are directly affiliated to the Central Board of Secondary Education (CBSE) of New Delhi. CBSE syllabus is flexible and comfortable for most of the students since it follows nationalized curriculum along with subject matters. Please note that the following list is in no particular order and is compiled after studying various surveys and considering factors like infrastructure, academic facilities, extra-curricular activities and general public opinion. We hope we can help you with this list of top CBSE Schools in Jamshedpur.
Valley View School
Valley View is a school in Jamshedpur, India. It is an English Medium co-educational institution, affiliated to the Central Board of Secondary Education (CBSE), Delhi. It has classes from Nursery to Std Twelve (Plus Two) situated in the TRF Nagar, P.O. Telco of Jamshedpur.
The school was initiated on 12 June 1989 under the aegis of Jamshedpur Education Trust drawing a membership from the Management of TRF Ltd., educationists and citizens of the city. In 1989 the school had classes up to Std. three with approx. 250 students. Presently the school has classes up to Std. twelve with a student strength of 1425 with 47 teachers in the faculty.
The educational programs offered by the school prepares students for AISSCE (XII) Board Examination conducted by the CBSE, Delhi. With the collaborators (TRF Ltd.) the school has an agreement over asset-sharing, exchanging know how, seeking technical advice and expertise and giving preference in admission to Employees' wards.
Delhi Public School
The Location of DPS JAMSHEDPUR in an immaculate landscape situated in the outskirts of the city,surrounded by Subarnarekha river and Dalma hills. The greenery spread en route instills in every mind to gather momentum in one's life throughout and never to back down. The building is located far from the madding crowd, totally away from the hustle-bustle of the city and the children here get the vivid imaginative ambiance to study. The school covers a total of 16 acres of land,consisting spacious assembly ground with beautifully decorated dias which motivates each and every soul to desire to excel everyday and everywhere .
It is initiated under VISWA GYAN PUNJ TRUST, DELHI PUBLIC SCHOOL JAMSHEDPUR was founded by Honorable Shri Dhanraj Singh A Socialist, A Visionary, An educationist who took the privilege to lay the foundation stone a decade before and gradually the school has outperformed the results both academically and in extra-curricular activities in all these years. Affiliated to C.B.S.E. New Delhi, the school aims at all-round development of students to enhance themselves to adhere as future leaders.
The founder member, DPS R.K.PURAM started its journey in 1972 which has gradually set eminent evidences to enlighten the name to its zenith. Starting with zealous dedication with a blend of aspiring lives ahead has initiated the spectacular journey of DELHI PUBLIC SCHOOL, JAMSHEDPUR under the aegis of the DPS society with utmost efficient Management circle. The never-to-say a 'no' teachers work under the guidance of an enthusiastic persona, the Principal heading the institution. He helps to carry forward the name of the school to greater heights.
DBMS Kadma High School
Dbms Kadma High School located in Road No. 23,Farm Area, Kadma is a Co-Educational Senior Secondary institution affiliated to the Central Board of Secondary Education (CBSE) on Provisional basis since 2003. The school has been operating officially under the trust/society Dakshina Bharata Mahila Samaj. The school is equipped with 49 class rooms and all essential facilities.
The area of school campus is 3.21 acres (14343.84 sq. mtrs). The built up area is 9045 sq. mtrs . The area of play ground is 6928 sq. mtrs . We also have Indoors Games, Dance Room, Music Room, Health and Medical Check Up facilities also.
Jamshedpur Public School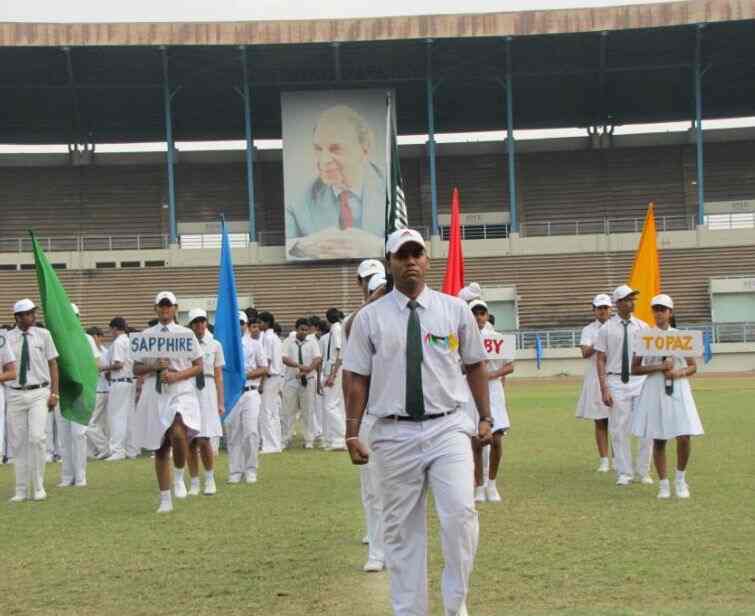 Jamshedpur Public School was founded in March 1988, under the aegis of A.I.W.C( All India Women's Conference), a Non Profit organization. The school is a coeducational school and is affiliated to the CBSE. The motto of the school is SHEELAM PARAM BHUSHANAM .The school strives to impart quality education that encourages thinking and not just learning. . The school operates from classes Nursery to XII (with 2317 students).The school is proud of its dedicated and competent teaching faculty, well qualified and experienced to guide the students and develop their innate talents and potential.
JPS is located in Jamshedpur and has one of the lowest fee structures among comparable schools in town . It's availability to all the strata of the society makes it one of the top CBSE Schools in Jamshedpur. The curriculum of the school is directed towards the all round development of young boys and girls so as to produce intellectually well informed, socially concerned, morally upright, confident, self reliant and responsible citizens of the country. The school believes in an educational system that blends the modern methodology & technology with MORAL VALUES to prepare students to be global students of tomorrow. The school promotes cultural programmes conducted by SPIC MACAY , and conducts programmes such as Annual Prize Night, Sports Day, Science Exhibition, Commerce Fest , Quiz,debates etc .
Vidya Bharati Chinmaya vidyalaya
Vidya Bharati Chinmaya Vidyalaya situated in the far east of Jamshedpur (Jharkhamd India) has been very thoughtfully named VIDYA means Education , BHARATI – that which is Indian , CHINMAYA -Pure Knowledge and VIDYALAYA is an abode of educations . So Vidya Bharati Chinmaya Vidyalaya is an abode of education imparting pure Knowledge to the future citizens of India. The school established in 1979 under the patronage of TATA MOTOTS (then TELCO) and Chinmaya Mission, is one of the top CBSE Schools in Jamshedpur .JSR the vidylaya has been blessed with benign grace and blessing His Holiness Swami Chinmayananda and today is governed the ideology enshrined in the Chinmaya Vision Program presented by the Chinmaya Education cell , Coimbatore , under Swami Tejomayananda who is the Head of Chinmaya Mission(Word Wide)
The School motto is KEEP SMILING . This is a lesson which we want all members of the vidyalaya Parivar to learn and live through life. This little lesson in its breavity holds the essence of success in life. if we keep smiling through all the ups and downs of life, remaining untouched by joy or sorrow can we successfully continue our journey towards knowledge.
Ramakrishna Mission School
Ramakrishna Mission School, Sidhgora of Jamshedpur was established in 1977, by the Ramakrishna Mission Society, a spiritual and humanitarian body founded by the followers of Sri Ramakrishna Paramahamsa ( 1836–1886 ), a 19th-century saint. The Mission Objectives was to preach those truths which Sri Ramakrishna, has, for the good of humanity, preached and demonstrated by practical application in his own life, and to help others to put these truths into practice in their lives for their temporal, mental, and spiritual advancement.
The Mission has established many schools and colleges in India in which young men and women belonging to every social status, community and linguistic group, are educated through the medium of English and other regional languages. These institutions are a part of the Mission efforts to share in the country's educational undertakings.
Ramakrishna Mission School has for its inspiration and guidance, the life and teachings of Ramakrishna Paramahamsa and that is why it holds a place in this list of top CBSE Schools in Jamshedpur . Special attention is paid to faith formation of the students, through weekly classes. Even so, the school's student profile is very cosmopolitan.
The School is owned and run by Ramakrishna Mission. The responsibility of the day-to-day running of the school is vested in the Principal, currently Mr. Nandalal Mukherjee.
Dav Public School
DAV Public School , Bistupur, Jamshedpur (DAVPSBJ), is a 10 + 2 private school, affiliated to CBSE. DAVPSBJ took off in the year 1995 with 500 students and 18 teachers. The school is managed by DAV College Managing Committee through Regional Directorate, Ranchi , with goodwill and cooperation of local intelligentsia and LMC. The school is located in Bistupur, the heart of Jamshedpur city with the prime objective to impart education to each and every section of the society.
Founded in 1885, DAV is the largest Non-Governmental Educational Organization in the country, managing over 700 educational institutions. DAV institutions have rendered a unique service, in not only dispelling ignorance and illiteracy but also in producing patriots, freedom-fighters, social reformers, intellectuals, thinkers, legal luminaries, doctors, engineers and scientists of unparalleled merit, integrity and caliber.
The 4079 students, 115 teachers and 42 supporting staff strive hard every day to imbibe the values and determination of being ambitious, confident, creative, disciplined, ethical, flexible, humble, incisive, intuitive, liked & loved, meaningful, passionate, persistent, proactive, resilient, respected, risk taker, unique & worldly to acquire and experience the best in this world first hand. They all work hard to make DAV one of the top CBSE Schools in Jamshedpur.
Under the guidance of DAV CMC and Regional Directorate, Jharkhand Zone-F, the school is working towards excellence every day. The school being the first choice (for classes from Nursery to Std. X I I) of parents in and outside Jamshedpur and placement of our students being in the best colleges of our country and abroad speaks of our endeavours bearing fruits of success.
That's all for now. We hope our list of top CBSE Schools in Jamshedpur helps you make a decision best for yourself. All the best!