Kerala is a state known for its literacy rate. It is evident from this fact that it provides its people with access to good educational institutions. Here is a list of top schools in Kerala across different boards. The list not in any particular order because the rating systems may vary. 
     1. Loyola School, Thiruvananthapuram
This is CBSE and ICSE school for boys. It is ranked as number 1 ICSE school in the state and 2nd best in India, with the ranking based on board exam results. Both curriculums are taught in campus in different blocks. The school is located in an green environment and spans 8 acres. It provides its students with exposure to many national academic and sporting events thereby nurturing the student as a whole, making it one of the top schools in Kerala.
Kendriya Vidyalaya, Thiruvananthapuram
This is a Central Higher Secondary school located in Army Cantonment Pangode. A co-educational institution, this is one of the many MHRD run schools all over India which are reputed to provide good education under the Kendriya Vidyalaya banner. This particular KV was rated number 1 in the Educationworld India Ranking 2015 under the Top 5 Government Day Schools  category. It is a sub-urban campus about 7.5 acres in size. Exposure to co-curricular and sports activities are also part of the teaching system. It also provides latest lab facilities for its pupils.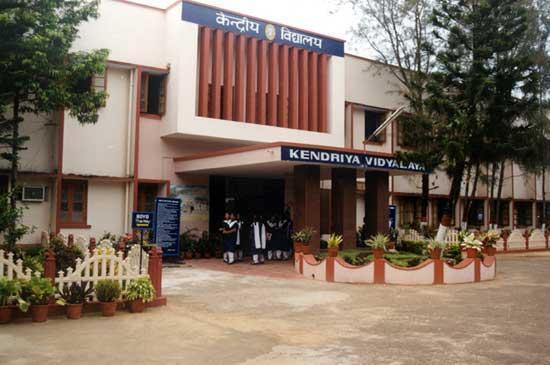 GVHSS for Girls, Nadakkavu, Kozhikode
This is another government school that was featured on the Educationworld India Ranking 2015. It is rated as the 4th best school nationwide under the Top 5 Government Day Schools  category. Government Vocational Higher Secondary School for Girls, Nadakkavu is hailed as one of the best government schools in the country. According to newspaper articles on the school, it has been transformed from a normal mediocre government school into a world class educational institution by the state. It has fully fledged lab facilities and also includes a state-of-the-art kitchen and canteen. Rivalling many private schools in terms of education provided, this school has been a stand out amongst government schools thwarting the notion that government run schools are not successful.
Jawahar Navodaya Vidyalaya (JNV), Chennithala, Alappuzha
This is a school affiliated to the CBSE board and is residential. It is rated as at number 2 nationally in the Educationworld India Ranking 2015 under the Top 5 Government Boarding Schools . In addition to providing a good quality education , it also takes active part in social outreach. It has programs which try to provide study material to those who cannot afford them and orphanage outreach. In terms of facilities provided to students, this school leaving nothing lacking.
 Kuriakose Elias English Medium School, Kottayam
This is a Catholic minority institution but accepts all students. It has one of the highest aggregate marks scored in the higher secondary examination. It is located at Mannanam in Kottayam. Its students have come under the media spotlight for their performance in the board examinations. It is a co-educational institution affiliated to the ISC board. It has also featured on many rating lists of top schools in Kerala.
 Christ Nagar Higher Secondary school
This school was started in 1976 as a private English Medium School in Thiruvananthapuram. It was later recognised by the state government of Kerala as a minority educational institution. It currently provides good higher secondary level education. It is a group of institutions in Thiruvananthapuram which span different school boards including Kerala State Board , CBSE and Cambridge International Examinations curriculum. The ISC School is a ranked 3rd in the state based on the academic performance of its students. This school has been able to receive the largest number of accolades for any single school in the recent past for its performance in the board exams.
 St.Thomas Residential School,Thiruvananthapuram
Also featured on the top ISCE schools ranking list, this school is a co-educational boarding high school. It provides both ISCE and ISC syllabus and spans a space of 32 acres in the suburbs of Thiruvananthapuram.  Providing a standard education for its students, it also helps its pupils stretch their creative skills in the annual Inter-school cultural fest , SanRevo. The school provides state-of-the-art facilities and labs and has helped its students achieve good scores in the board exams. It is, without doubt, one of the top schools in Kerala.
Chinmaya Vidyala, Thrissur
This is a CBSE board co-educational school. It has consistently provided good quality education. It has both day schooling and boarding facilities. Chinmaya vidyala, Thrissur was rated AAAA+ in the rating provided by the website www.school.careers360.com in addition to appearing in other lists of top schools in Kerala. The school provides a good standard of education with good lab facilities. It also nurtures the creative and artistic side of its pupils through its annual cultural events.
Sarvodaya Vidyalaya,Thiruvananthapuram
The Sarvodaya Vidyalaya is located in the lush green Bethany hills. It provides education in the three major boards, CBSE, ICSE and Kerala State Syllabus. It has featured in the list of top ISCE schools based on the performance in the board exam. The overall population of the school is 4500 students and 120 teachers. It provides good lab facilities and also a good library. The campus is located in Mar Ivanios Vidya Nagar,  Nalanchira, Thiruvananthapuram.
   10. Holy Angels' I.S.C. School,Thiruvananthapuram

The Holy Angels ISC School is situated in the 2 acre campus in Nanthencode, in the heart of Thiruvananthapuram. The school offers ISC and ICSE board syllabi from kindergarten to class 12. This school is a sister institution to the reputed Holy Angels' Convent Schools. It is predominantly a girls school with co-education provided only up till class 4. The institution provides good facilities for its students and has s good standard of teaching. It has been featured in the list of top ISC schools in Kerala on the basis of the performance in the board exams.
This was our list of the top schools in Kerala. Read our list of top schools in Punjab here.